Main Page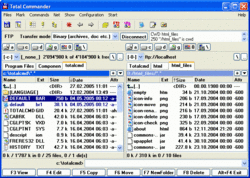 Welcome to the Total Commander Wiki!
A Wiki is a community site similar to a forum, where everyone is allowed to edit pages and to create new pages. Please do not abuse this right!
Feel free to play in the Sandbox and test your editing skills before modifying an already existing page. The syntax is explained here or here.
Available categories
---
Please use the discussion tab above or our forum if you want to make changes to the layout of the front page!
See the User's Guide for usage and configuration help.
Have fun!